Home
International scientific journal
«PHILOLOGY»
Founder and publisher of the international scientific journal "PHILOLOGY" is "Scientific survey"
Publishing House. The results of scientific researches of Russian and foreign scientists, reflecting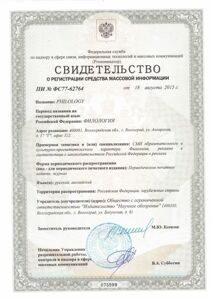 current issues of philological sciences are published in the journal in Russian, English, German and Spanish. The authors
of the articles are philologists working in the higher educational institutions, scientific establishments and various organizations in Russia and foreign countries, doctoral candidates, postgraduate students and students.
Electronic version of the journal is available on the website for free, which allows expanding scientific contacts due to free access to the results of researches.
The journal is a source of information on the latest studies in the sphere of philological sciences. The full texts of the articles are available in Archives section on the official site of the journal.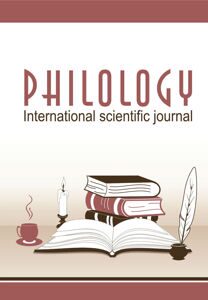 Acceptance of the articles in the international journal
"PHILOLOGY" (№ 3 (33), May) is begun
Application Deadline is May 1, 2021
Electronic version of the journal – the second half of May, 2021
Sending of printed copies – beginning of June, 2021
International scientific journal "PHILOLOGY" is registered in Federal Service for Supervision in the Sphere of Communications, Information Technology and Mass Communications http://www.rsoc.ru/ (Registration Certificate ПИ № ФС 77 – 62764, dated 18.08.2015, distribution territory – the Russian Federation, foreign countries) and in ISSN International Centre (ISSN 2414-4452).


The journal is indexed in the following databases:
ResearchBib, Japan
Periodicity of the journal – bimonthly (6 issues a year).
City of the journal edition: Volgograd
Founder and publisher: Publishing House "Scientific survey"
Address: Russia, Volgograd, Angarskaya St., 17 "G", office 312
Phone: 8(962) 7600-119
Materials for the publication in the journal (together with the application form) should be sent via e-mail to the Executive editor: sciphilology@mail.ru